As Canada's first closed network auction built for CPG companies, brands can easily auction surplus inventory while…
Controlling which buyers can see and bid on their products
Setting re-sell restrictions for buyers
Controlling against
low-ball offers
Tracking returns and test various levers to enhance returns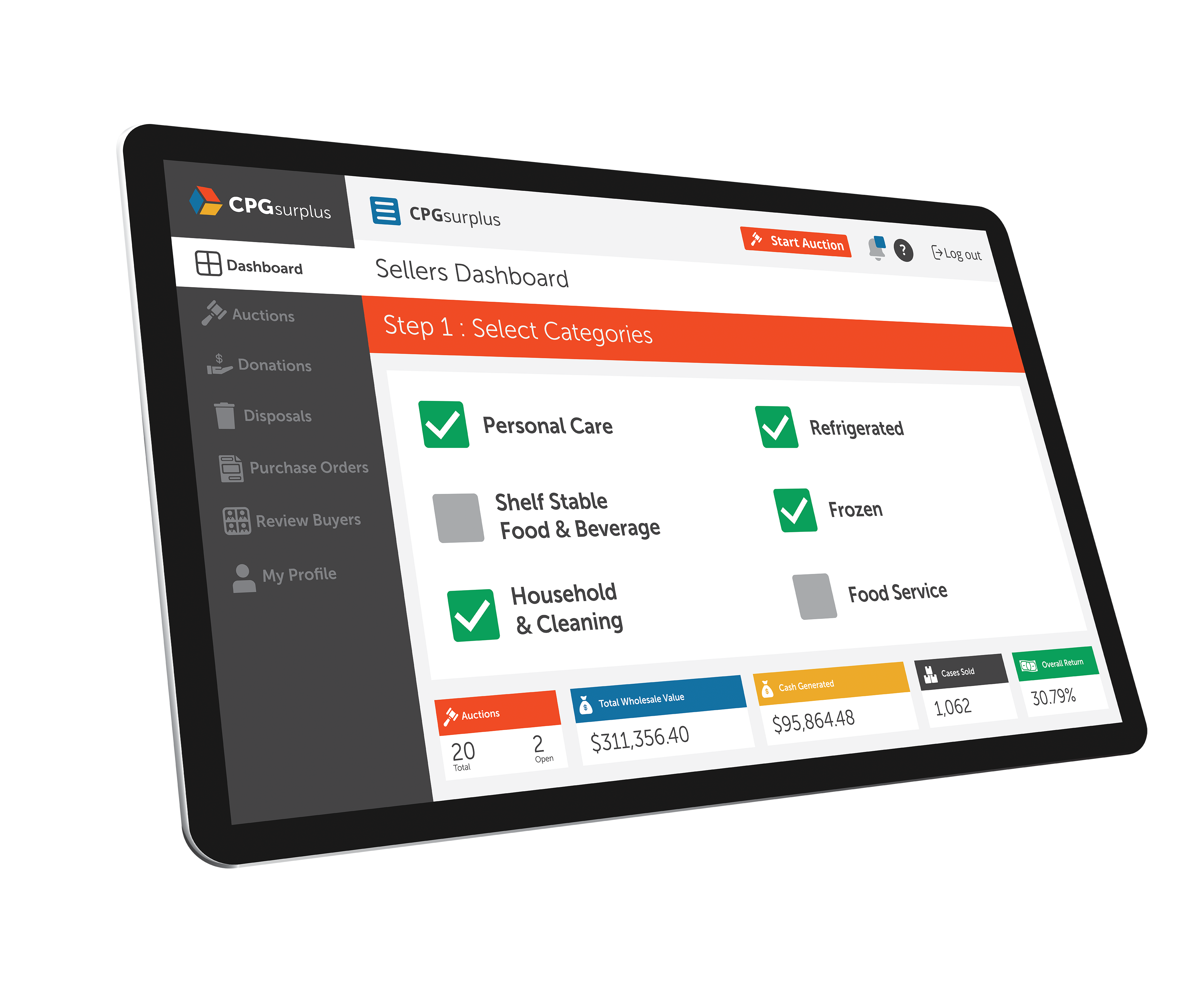 1. Select Product Categories
CPGsurplus is currently running auctions for the following categories: 1) Shelf Stable Food & Beverage 2) Household & Cleaning 3) Personal Care. Other categories to be added shortly include Food Service, Frozen and Refrigerated.
2. Choose Buyers for Your Auction
Review and select buyers by region (Eastern Canada, Ontario & Quebec, Western Canada or national) or channel (retail, wholesale, or both). Get to know each buyer in the "Buyers" tab to understand their operation including warehouse location, number of retail stores, wholesale customer base, etc.  You will also find a link to their website as well as an overview of their experience purchasing surplus product in a trust worthy manner.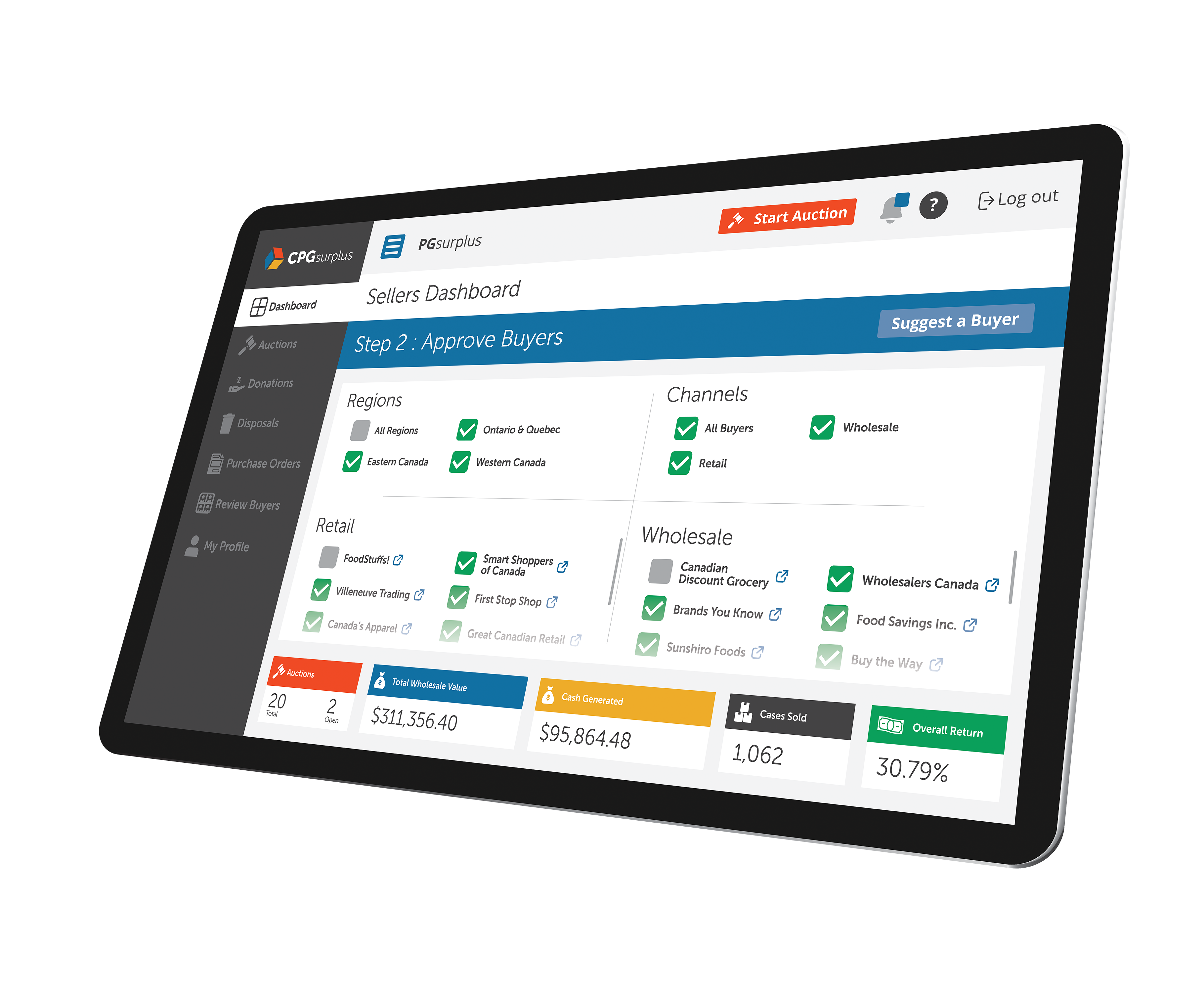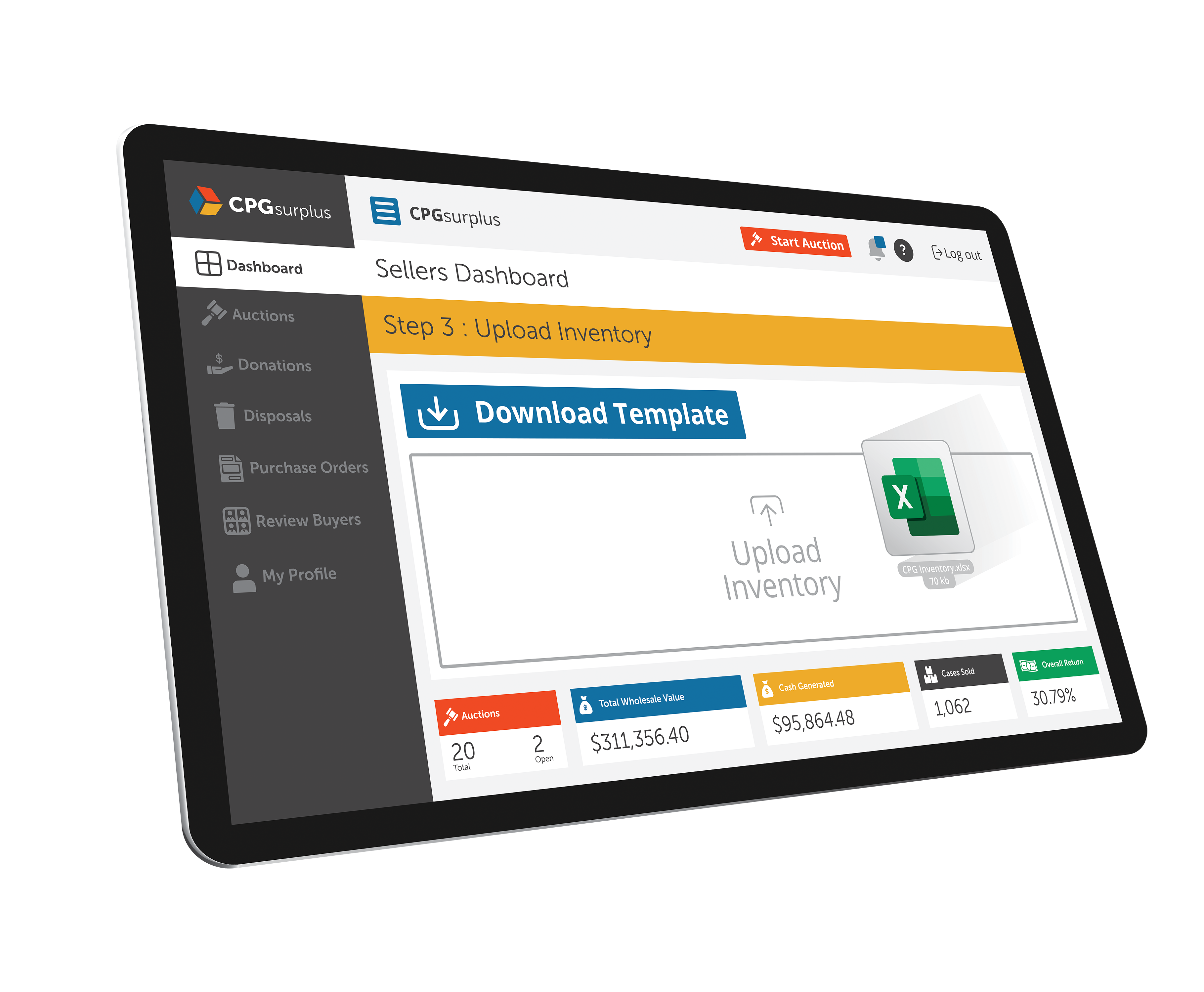 3. Upload Your Inventory
Download and populate our inventory template, then upload it to the CPGsurplus platform. Mandatory fields include common details such as UPC, description, case pack, cases per pallet, wholesale price per case, minimum price (starting bid price) and quantity available in cases.  At this step, you'll also have the option to upload any attachments, such as sell sheets or product pictures, that would help buyers understand your product.
4.Activate auction
Select an end time for your auction and press start.  Once the auction is activated, your selected buyers are notified and asked to agree to your restrictions (creating a legal record) prior to gaining access. The system will only allow bids at or above your minimum price and only in pallet quantities.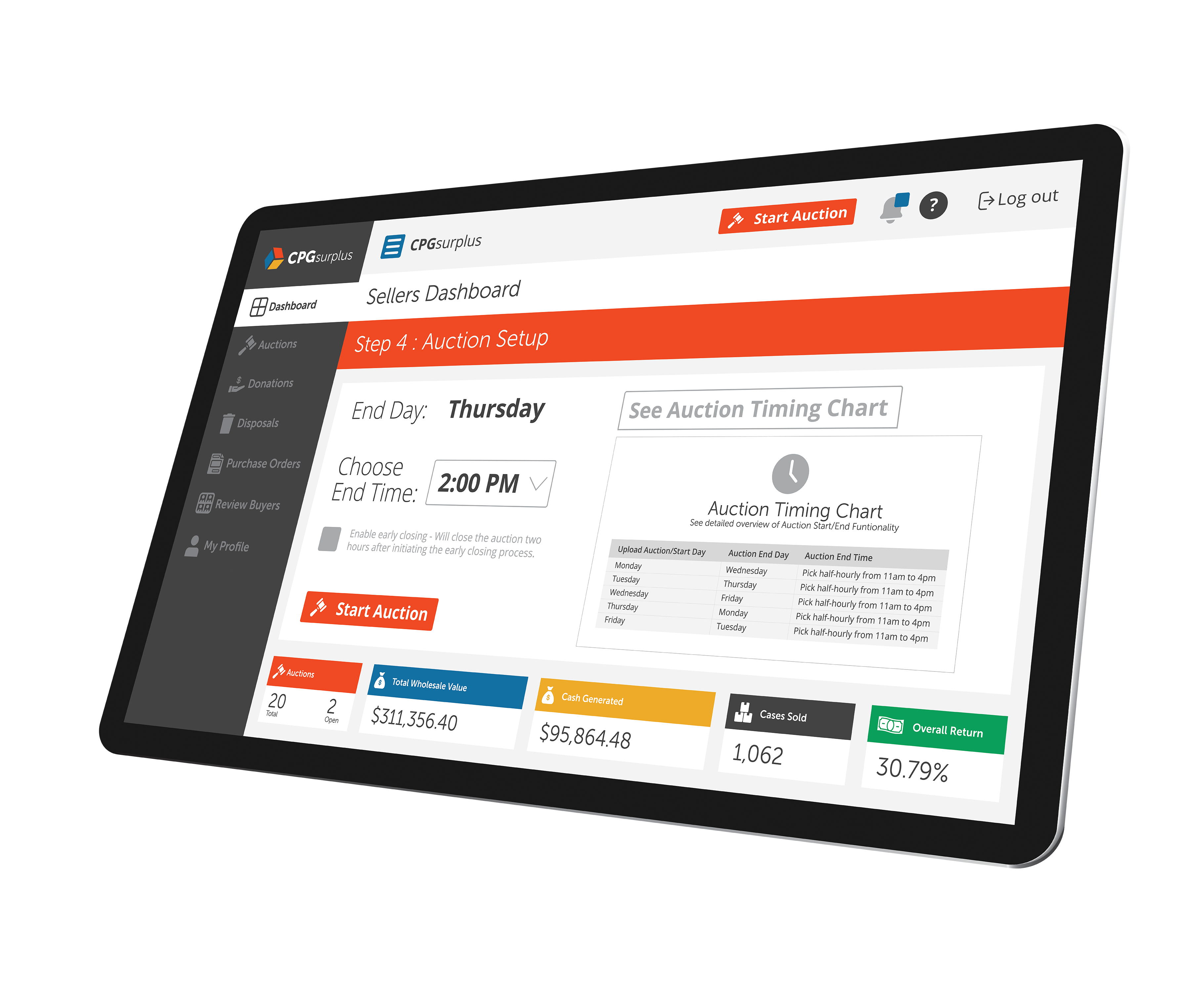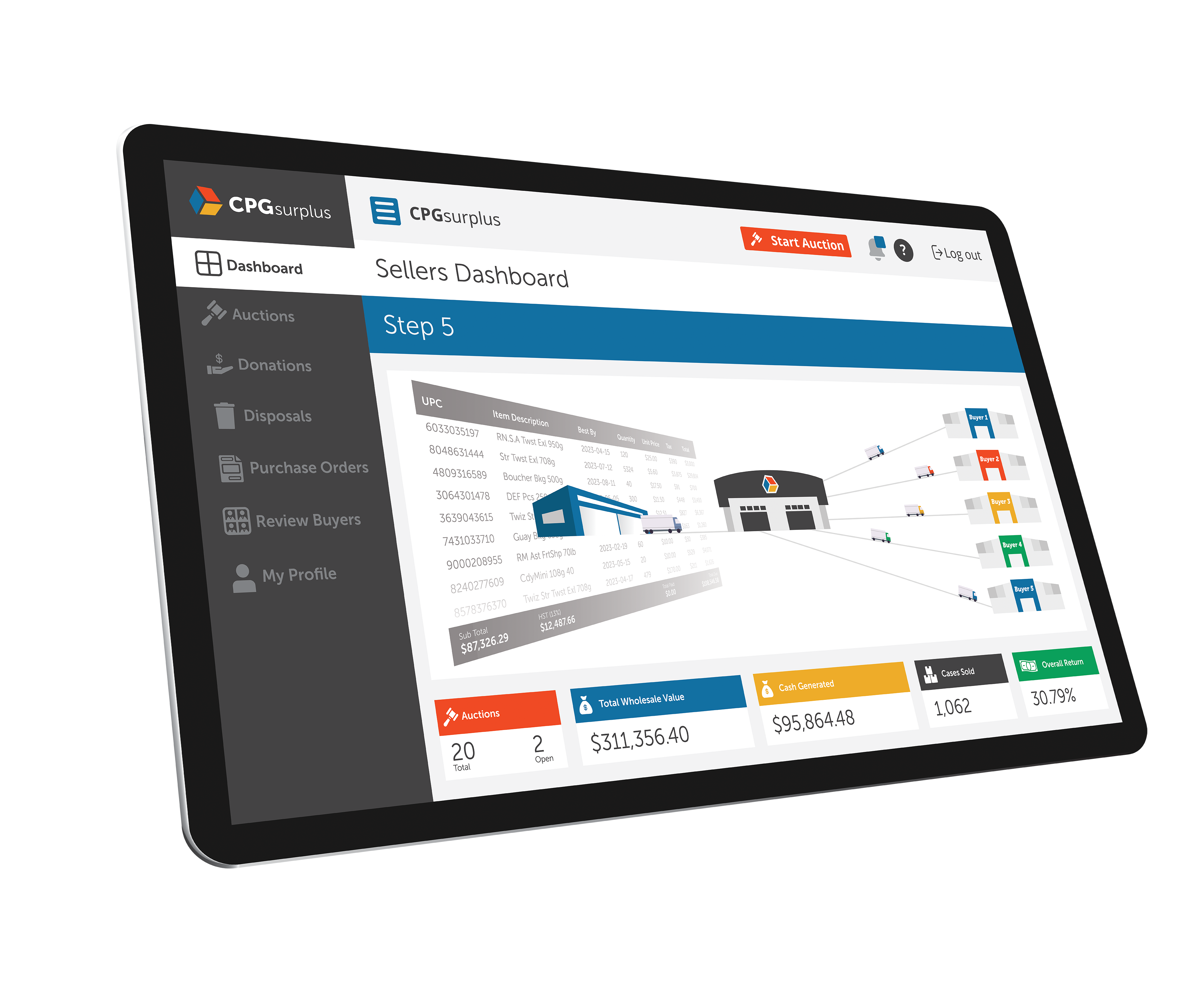 5. Process one order for the entire auction
Once the auction closes, winning bids are consolidated into one Purchase Order, submitted to you via EDI and shipped to our 3rd party distribution centre in Burlington, ON.  This means having to process only one order with one Ship-To and one Bill-To.   
When the product arrives at our warehouse, we will separate the product by buyer, combine it with other orders going to the same location and deliver the goods together, reducing the number of trucks on the road and hence the carbon footprint.  
one P.O.  |  one ship-to  |  one bill-to  |  one invoice
Our online auction allows you to sell to multiple buyers, approved by YOU
in a simple, protected closed network environment.
blank
Will my inventory stay in Canada?
Yes.  CPG Surplus only consists of Canadian buyers as we understand most brands would like their product to remain in Canada and NOT be sold anywhere else.  If you want to sell products outside of Canada, contact CPG Surplus direct.
Are all potential buyers included on the CPGsurplus platform?
CPG Surplus seeks to include all buyers who are reliable and trustworthy and have a history of buying branded goods in Canada while ensuring goods are not sold back into Tier 1 channels.  If we are missing a buyer that you trust, please let us know and we will do what we can to add them immediately.
What is the minimum sized order for participating in the CPGsurplus auction?
CPG Surplus sets a $5,000 minimum for purchases.  If bids on your auction fail to reach this minimum, you will receive a notification as such giving you the choice to cancel the auction or continue with a $500 auction fee.
My company has terms and conditions that each buyer must sign before we will sell them our surplus inventory. Does the CPGsurplus system allow me to implement those terms and conditions for every buyer bidding on my inventory?
Yes.  Each Seller has the ability to upload their specific terms and conditions and require each buyer to accept them prior to receiving inventories to bid on.  Should they decline, your inventories will remain hidden.
Contact Us
Leave us a note or any questions you may have, or better yet, give us a call at 1.800.901.8688.